10:PM – bedtime made easy with mattress in a box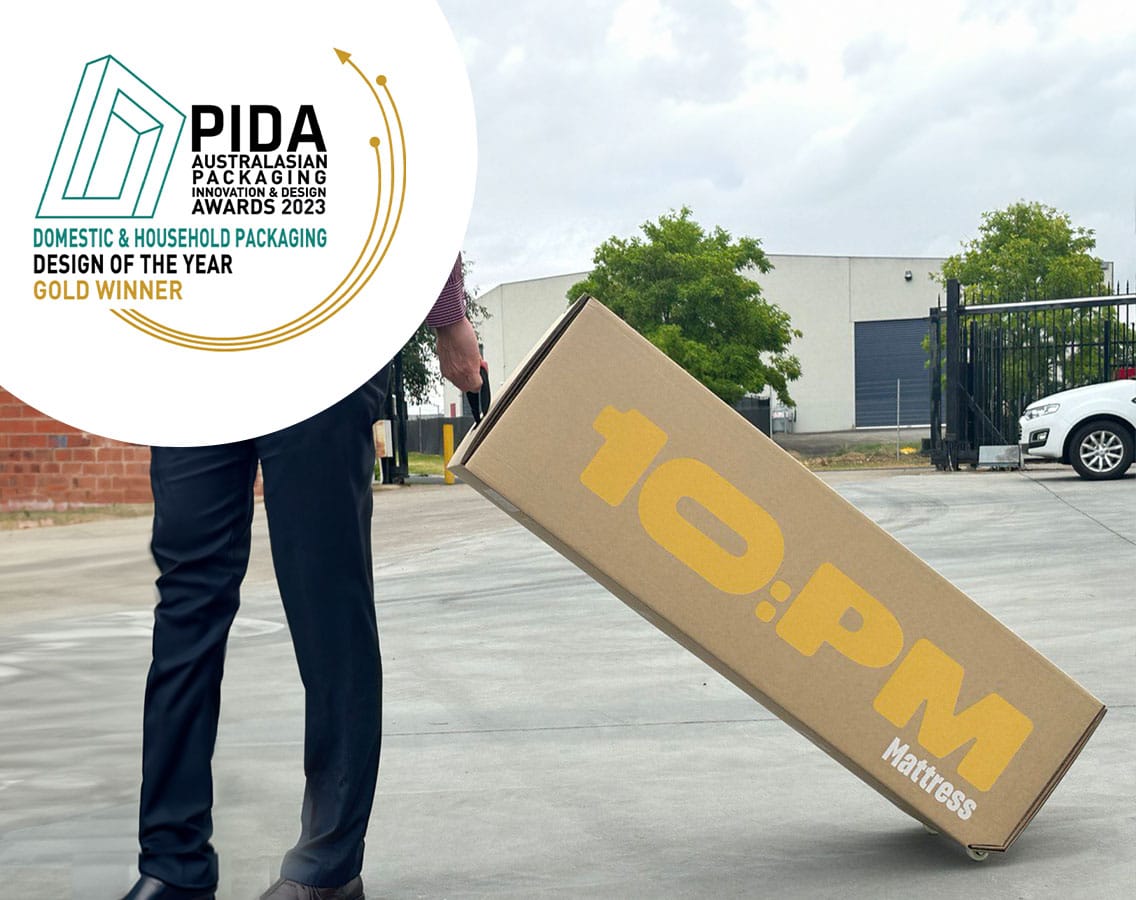 The idea for 10:PM was sparked when founder Harrison Reid was dragging (with difficulty) a new mattress up six flights of stairs to reach his Sydney apartment. He knew that the hassle of transporting a new mattress is something many have dealt with, which set Harrison on his mission: to give Aussies best night sleep they deserve, simply. Enter: the 10:PM mattress in a box, which since then has gained popularity around the country.
10:PM Mattresses are made from quality materials here in Australia, which means minimal mark-ups, a lower carbon footprint and less time compressed in the box.
The 'box' part is where Production Packaging Innovations stepped in.
We're pleased to say that our final packaging design for 10:PM received the GOLD award in the Domestic & Household Packaging Design category at the 2023 PIDA awards. Read on to see how our team got there.
The brief
Boxed mattresses were introduced to the Australian market in 2010, and their convenience has made them a popular choice, particularly for city dwellers.
Other boxed mattress brands generally use regular cardboard boxes, sometimes with wheels to make transportation even easier. While handy, these wheels are typically labour-intensive to install (read: costly) and can cause damage to the product in transit.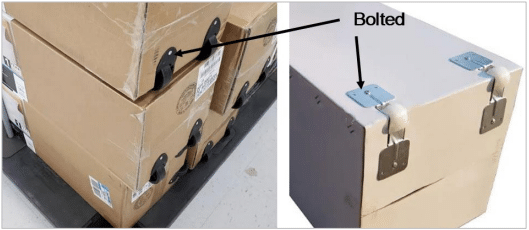 This was our team's challenge.
This bespoke mattress box needed to provide convenience for both the logistics teams and customers through an easy to assemble wheeled mattress box, while avoiding having to bolt the wheels and handle directly into the corrugated board.
The solution
Working closely with Harrison and the 10:PM team, we landed on a final design that fulfilled the brief.
We started with a box design that had secure locking tabs and completely overlapped flaps as a secure blank canvas.
To protect the mattress in transit, the box – which comes in five different sizes for the different sized mattresses – is made from twin-walled corrugated board. This creates a robust structure that's tough enough to carry a heavy product, but also provides cushioning.
Our team had to think inside the box to tackle the most challenging part of the brief: the wheels. To avoid the wheels having to be bolted straight to the cardboard, we designed the box's flaps to have cut-outs for the wheels to poke through.

The wheels (plastic caster wheels on right-angled steel plates) are simply placed into position, and the box flap closes to keep them in place.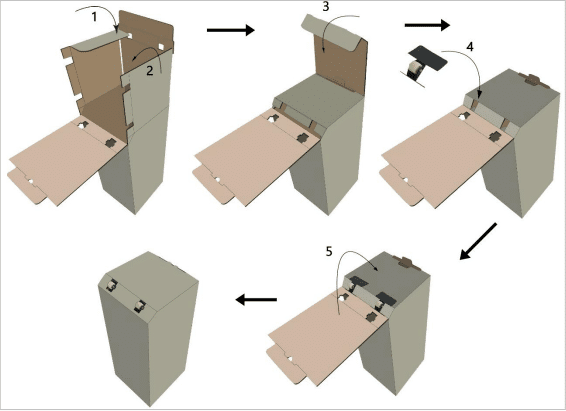 A similar custom cut-out strategy was used to attach a handle to the other end of the box. And, voila!
The bonus of our custom packaging was that the integrated wheel design allowed the box to sit flush to the floor – thanks to a recessed and chamfered-edged design. This clever feature added an extra layer of ease to mattress transport, making the box more stable and easier to stack. An innovative solution to a tricky logistical problem.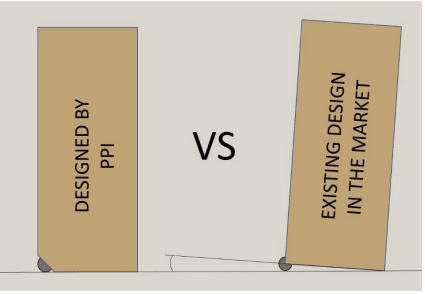 To keep 10:PMs brand front and centre, we Flexo printed their eye-catching yellow logo onto the raw corrugated board – which is economical but also visually arresting. Taglines, website and other key info is also included in the design.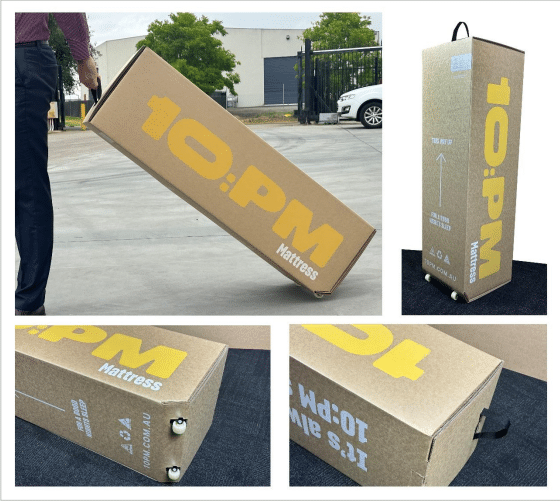 Sustainability was also a key consideration for 10:PMs packaging design, as it is a core tenet of their business – and ours! The box itself is made from 100% FSC-certified materials, and is fully recyclable. The packaging is simple for the end customer to recycle, as the wheels and handle can easily be removed.
The results
The 10:PM packaging was a solution to a logistical problem, however there are benefits both for the end consumer and for the brand reputation overall.
"Having wheels on the boxes for 10:PM's king size mattresses not only makes it easier for our customers and our delivery provider, but also eliminates any damages to the product and packaging. Production Packaging Innovations has really helped 10:PM with this game-changer in packaging." – Harrison Reid, 10:PM founder.