Habitat Shipper Box – Promoting Sustainable Purchasing Habits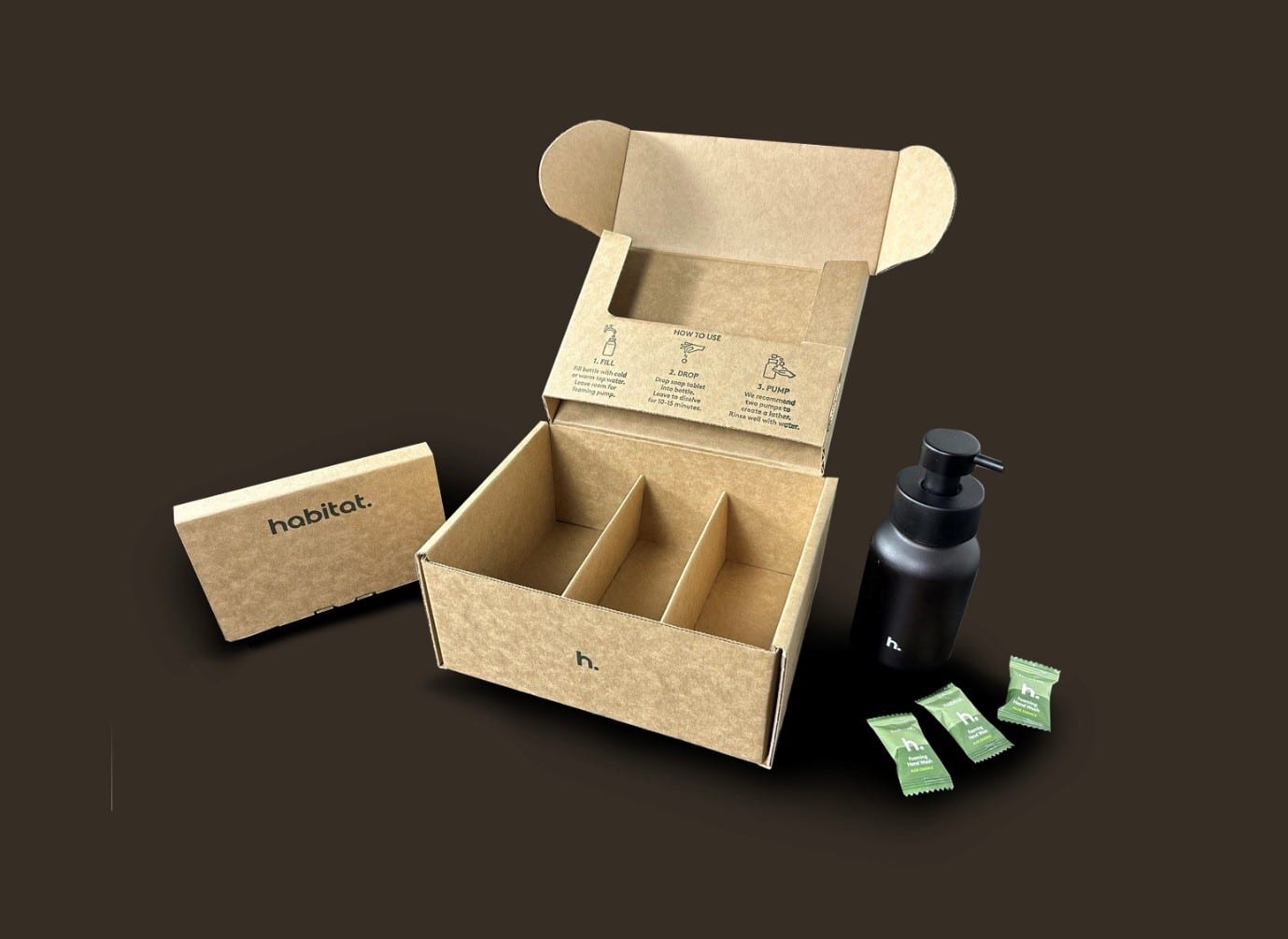 Habitat was founded during the pandemic. Clare, founder of the company, grew up surrounded by the natural wonders of the Australian mainland. This engrained in her a deep appreciation for mother nature and an innate desire to restore the balance in our surroundings.
Plastic consumption has sky-rocketed in recent years, which has had grave and detrimental impacts on the environment. Australians on average, use 130kgs of plastic every year, of which only 9% is recycled – which means over 3 million tons of plastic ends up in oceans and landfills.
Habitat set out by taking a small, but powerful step towards preserving the environment. Their vision is to make sustainable options for everyday items a household habit. They launched re-fillable soap dispensers and tablets which turn into handwash when dissolved in water.
This revolutionary product significantly reduces the harmful impacts throughout the product life-cycle by reducing plastic use and CO2 emissions.
The Brief
Habitat aimed to reduce environmental waste, carbon footprint and shape sustainable purchasing habits.
The kit includes a reusable soap dispenser made of glass, along with (4 to 12) vegan handwash tablets which simply dissolve in water to create a greener alternative to a traditional handwash.
Their team was looking for a bespoke shipper box that is aligned with its core sustainability values, protects the kit during transit, builds a strong product presentation and creates a memorable unboxing experience to build trust in the customers.
Due to budget restrictions, they wanted a flexible design that can accommodate all possible purchase options – 2 or 3 dispensers (in rare cases only 1) along with the relevant number of tablets. Rather than creating three types of shipper boxes.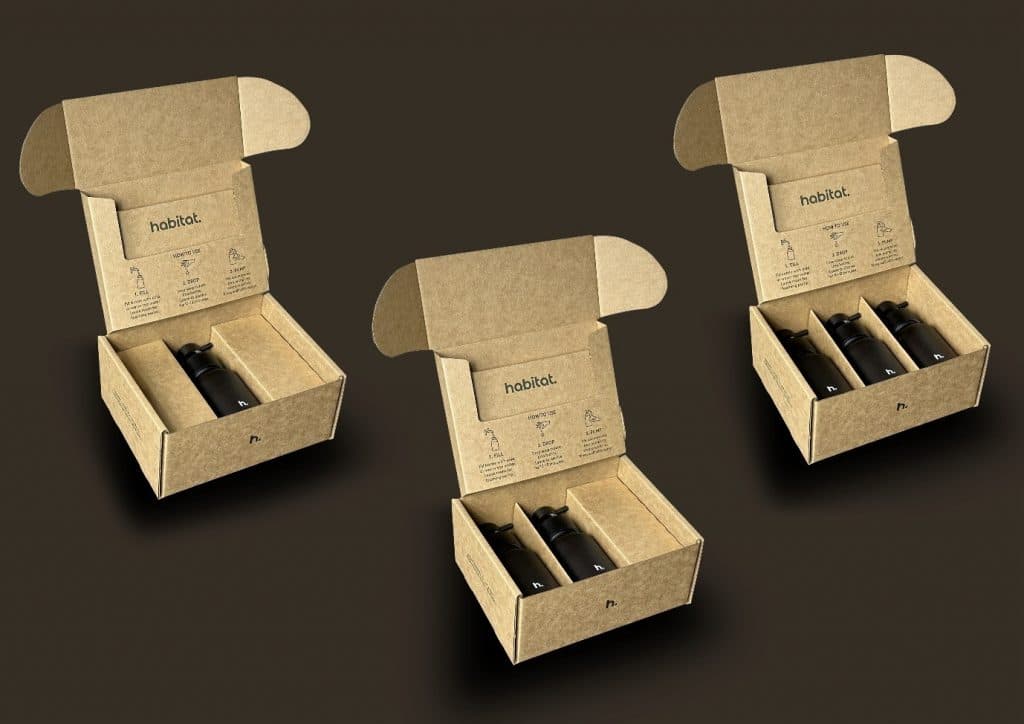 The Solution
PPI designed the shipper based on FEFCO Style 0427 with a unique concertina insert that can change the internal space of the box to fit three, two or one dispenser.
We also included an insert to put the box of tablets, which created an impeccable unboxing experience – presenting all components of the kit in a visually pleasing manner from the very first moment.
The pocket for tablets allows them to stay in place and protected during transit, as well as ensure they are not simply resting on the dispensers when a customer first opens the box.
Branding on Point
The shipper is made using recycled I-flute corrugated board with high-quality monochrome Flexo print.
The deep olive green on the Kraft background communicated the brand's strong alignment with sustainability, which is of utmost importance to Habitat.
Black glass dispensers, positioned against the neutral-colored Kraft paper evoke an impression of neutrality, minimalism, consciousness yet of elegance and premium brand quality.
We used simplistic typography to communicate with customers and amplify the unboxing experience, such as putting catchy phrases on different panels of the packaging to further the brand narratives and assure them that "they have made an informed and conscious purchase decision".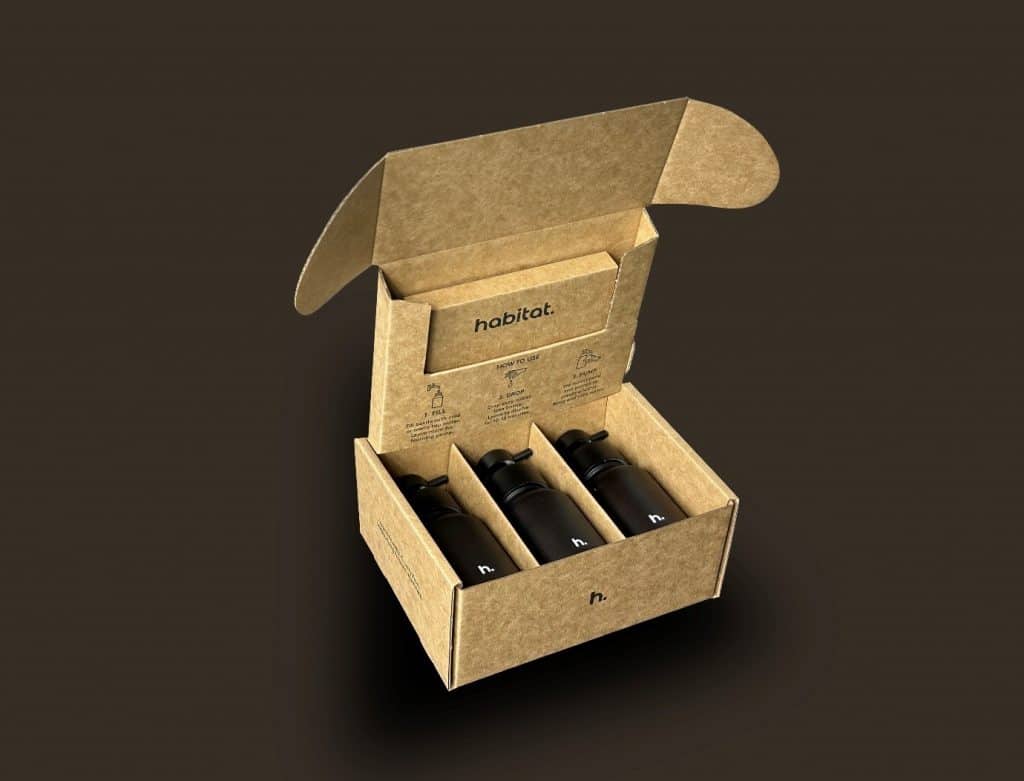 Functionality
The board we used is thinner in composition than the b-flute board, thus, more fit for smaller shipper packaging. It is an export-grade board, with superior strength and resilience. After conducting a few shipping tests, we found that it was rarely impacted during transportation.
For added cushioning, we inserted the concertina inserts to provide separation and protection on the side and below the glass bottles. This insert can be folded into three different configurations to include all possible variations of the product orders.
The box is easy to assemble and has mechanisms in place to securely lock the products in their positions, as well as provides an added layer of protection from the top to the glass bottles.
All components of the shipper can be stored flat, reducing the space and cost required for Habitat to store packaging. The external dimensions of the box are also consciously created to reduce the cost of shipping and postage.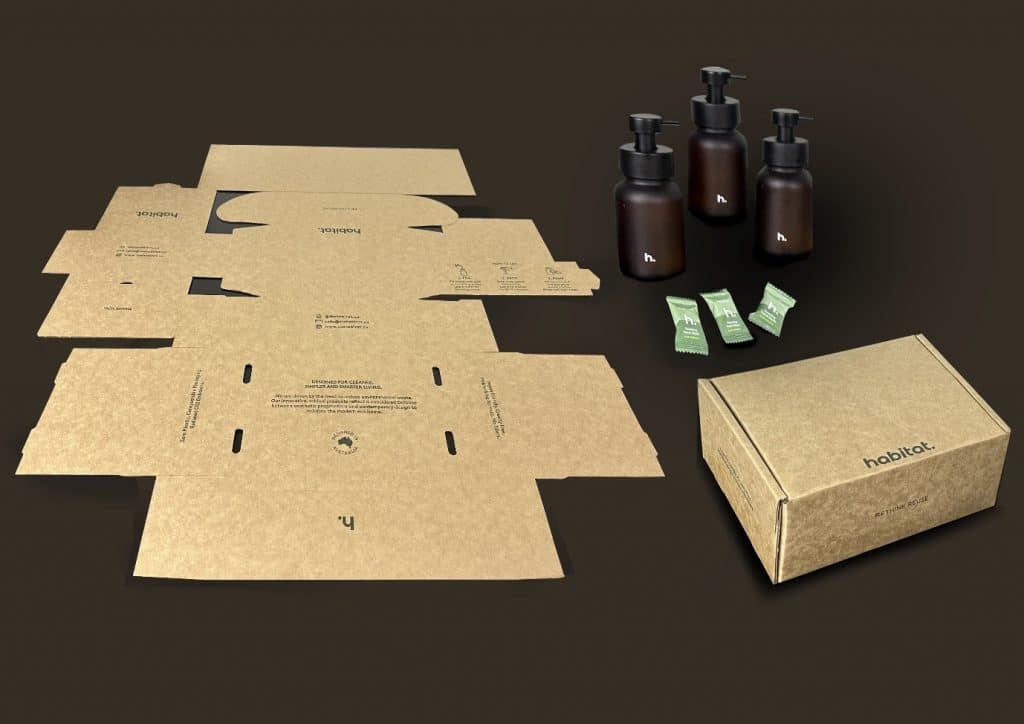 Sustainability
The material (I-flute corrugated board, 100% FSC certified) used to create the Habitat Shipper box is fully recyclable and made from renewable resources.
Composed of 70% recycled material, the ink used from Flexo printing is non-toxic and soluble in water. Minimising the exposure of harmful chemicals to the environment.
The final product was efficient on time and energy, thus, also reducing the manufacturing costs.
All components of the packaging are incorporated into a single die tool, which utilizes minimal sheet size during cutting and printing.
Traditionally, corrugated boards which require printing on both sides need to be passed through the machine twice. However, we used the one-step printing process, i.e. we only printed once and on one side to create designs on both (in and out) sides of box. This distinguishing feature of the box was both energy and cost efficient.
Innovation
We joined hands with Habitat as their packaging partner from their inception at a time when no appropriate packaging existed to represent them.
Our designers immersed themselves completely in their brand story and values to create a product that fulfills all functional needs but also stays true to the noble mission of their company and products.
The focus was to create packaging that is unique, environment-friendly but also appeals to their target audience. Through ideation, prototyping and testing we created packaging that enhanced their brand identity and present them as a brand with purpose while empowering Habitat to stand out in the market against competitors.
PPI was awarded silver PIDA award in 2023 for the Habitat Shipper Box (Health, Beauty and Wellness Category).
Get in touch with us to discuss your packaging needs. We provide complete and specialized packaging solutions for any application.