Mindful Life – The finest naturally derived skincare for babies and children
Mindful Life is a bespoke brand of beautiful skincare products for babies and children made using only the finest ethically-sourced, naturally derived and cruelty free ingredients.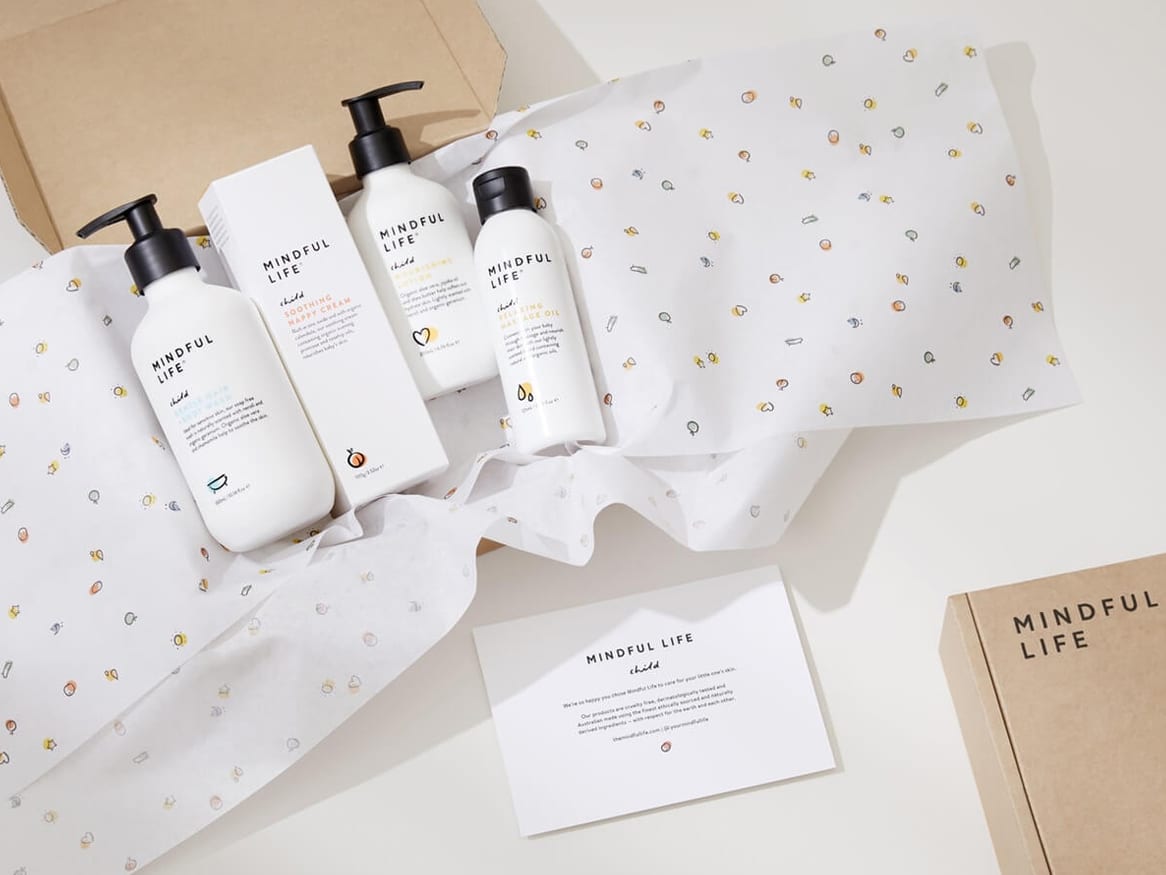 Mindful Life is a bespoke brand of beautiful skincare products for babies and children made using only the finest ethically-sourced, naturally derived and cruelty free ingredients.
Established in Australia and founded by model, actress and entrepreneur Megan Gale, Mindful Life sells exclusively online throughout Australia and New Zealand.
Named after the practice of Mindfulness, Gale created Mindful Life in response to two key considerations: a gap in the market for baby skincare products without the nasties and a desire to encourage moments of mindful connection between parent and child as the natural nourishing ingredients are applied.
Since it's launch in early 2019, Mindful Life has been helping parents and children alike stay happy and healthy.
The Brief
As a new startup eCommerce business, Mindful Life faced a pivotal decision which would affect the public perception of the business, their environmental impact and the quality of the consumer unboxing experience. What kind of packaging would they use?
Megan Gale commissioned PPI to create two distinct packaging options for Mindful Life. These boxes needed to balance a multitude of logistical and aesthetic requirements.
1. Accommodating multiple product configurations
The Mindful Life product range consists of a Soothing Nappy Cream, Restorative Balm, Relaxing Massage Oil, Gentle Hair + Body Wash and Nourishing Lotion. In addition to selling these skincare products for babies and children individually, the Mindful Life online store also sells the products in six different bundle options.
Mindful Life needed a versatile packaging solution that would allow many different product and bundle configurations to fit snugly and safely into just two different boxes.
2. Protective inserts to support delicate products
Skincare products are quite delicate. Bottles and tubes containing liquids or balms require special protection in transit to avoid compression.
Have you ever haphazzardly packed your toiletries bag for a trip, only to find on arrival that your body wash has popped open under pressure and spread itself around your other belongings? Mindful Life needed custom-engineered protective inserts to avoid this devastating conundrum and the refunds and damage to the brand that could have followed.
3. Fitting Australia Post weight categories for optimal shipping costs
Anyone who has shipped a parcel with Australia Post will be familiar with the mail service's strict weight categories. A few grams in the weight of your parcels can translate into a significant increase in shipping costs if you bump up to the next weight category. This effect is especially dramatic at scale.
4. A maximised aesthetic unboxing experience
As a model and entrepreneur, Megan Gale has a considerable public profile and personal brand. It wasn't just a business' reputation at stake, but also Gale's hard-earned personal reputation. It was therefore especially important that Mindful Life's branding was completely on point.
In this era of eCommerce, 'unboxing' has become a key part of branding for the online shopping experience. In a trend ignited by YouTubers and Instagram influencers, new products are often opened on camera for an audience of followers to capture the excitement of unwrapping elegantly branded packaging.
In light of the 'unboxing' trend, discerning consumers have come to expect elevated unboxing experiences of their own.
To create such an experience, Mindful Life needed elegant, aesthetically branded packaging that looks beautiful inside and out. We worked with Megan through a series of prototypes to create a packaging solution that exceeded her expectations.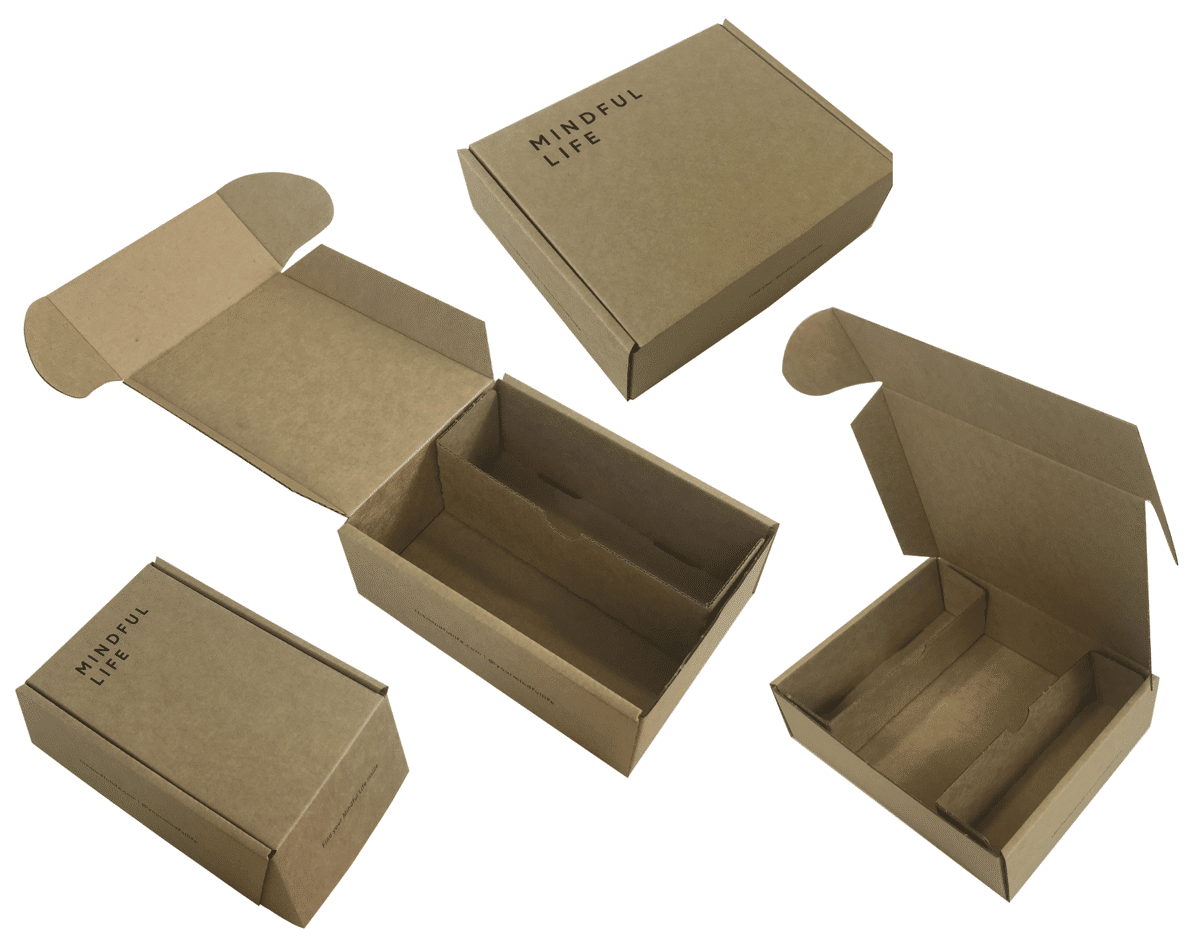 The Solution
Production Packaging Innovations created two different packaging options for Mindful Life. The two options feature adaptable protective inserts which can be configured to accommodate all six product bundle options, as well as individual product combinations.
Both packages feature a sleek natural cardboard exterior, almost unmarked except for a streamlined Mindful Life logo in classic black print. PPI took care to ensure that the look of the package was consistent with Mindful Life's peaceful, minimalist aesthetic.
An adjustable insert layer inside each package can sit flat for added support or be configured into a protective wall or wrap to section off the box and secure delicate products for transit.
Both packages feature a hinged opening function for ease of unboxing. The reinforced walls of the box are the perfect snug fit for Mindful Life's products and the secure internal fit of the lid ensures each bottle and tube arrives at its destination in perfect condition.
The Results
PPI created a versatile protective packaging solution for Mindful Life that accommodates all possible product combinations while staying true to the brand's aesthetic.
Better yet, we used only environmentally sustainable carboard in this custom design. Our solution is completely recyclable, unlike most similar products which include unecessary plastic or polystyrene inserts.
The result: a solution created with materials just as thoughtfully chosen as Mindful Life's ingredients, an elegant unboxing experience and well-protected products!