Single Use Ain't Sexy – Helping Aussies do good and look good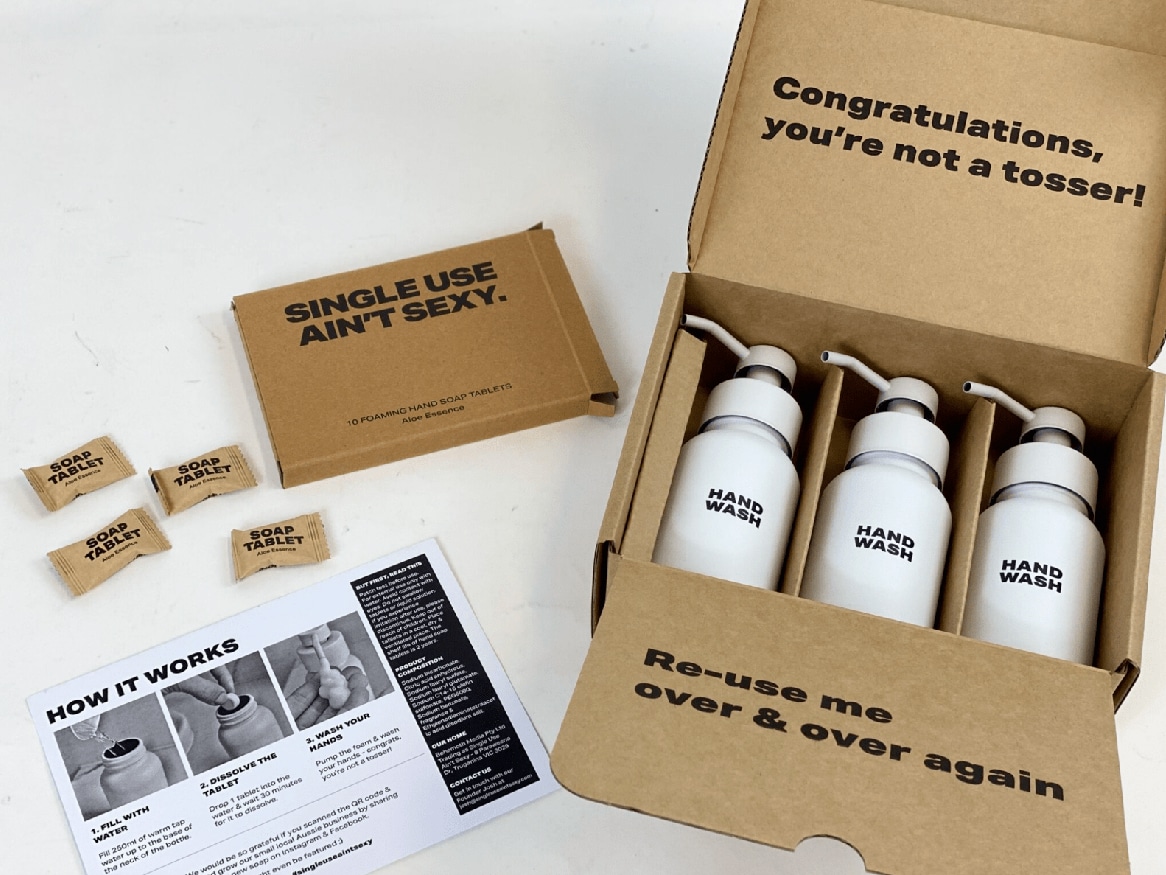 Founded by Josh Howard, Single Use Ain't Sexy was created to help Australians reduce their single-use plastic bottle consumption without sacrificing style. To achieve this, Howard and his team created Australia's first ever dissolvable foaming hand soap tablet and reusable glass soap bottle. Every tablet used saves another single-use plastic bottle from landfill, and not shipping water can reduce a person's carbon footprint by up to 86%. Their solution is simple, sustainable, sexy, and won two Good Design awards – the only thing they were missing was the perfect packaging.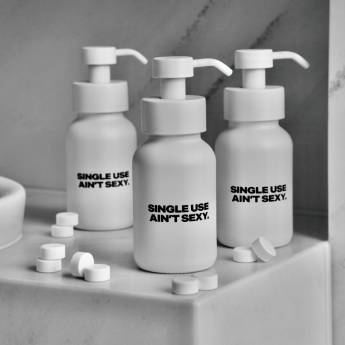 The Brief
Single Use Ain't Sexy approached us after we were recommended by a friend. They had been using off-the-shelf packaging, but it didn't offer adequate protection for their bottles and it didn't fit their brand. The packaging they wanted had to be:
100% biodegradable, sustainability was the most important aspect
Sturdy, able to protect the glass bottles inside
Good looking, it wouldn't be on-brand to have a boring or ugly package
As well as having those key components, there was also a strong desire to ensure that customers have a great unboxing experience. Essentially, the packaging had to be reflective of the product inside: Simple, sustainable, sexy.
The Solution
We worked in close collaboration with Single Use Ain't Sexy to create a final design that meets all the criteria in the brief.
The packaging we created is made from partially recycled cardboard and the ink used for messaging is water soluble, making it 100% recyclable and biodegradable. We used high grade cardboard and custom cardboard inserts to protect the glass bottles, this also allowed us to control how the bottles would be presented during the unboxing process. Printing was used to include brand messages, which helped convey the brand's story and made the unboxing experience more fun for customers.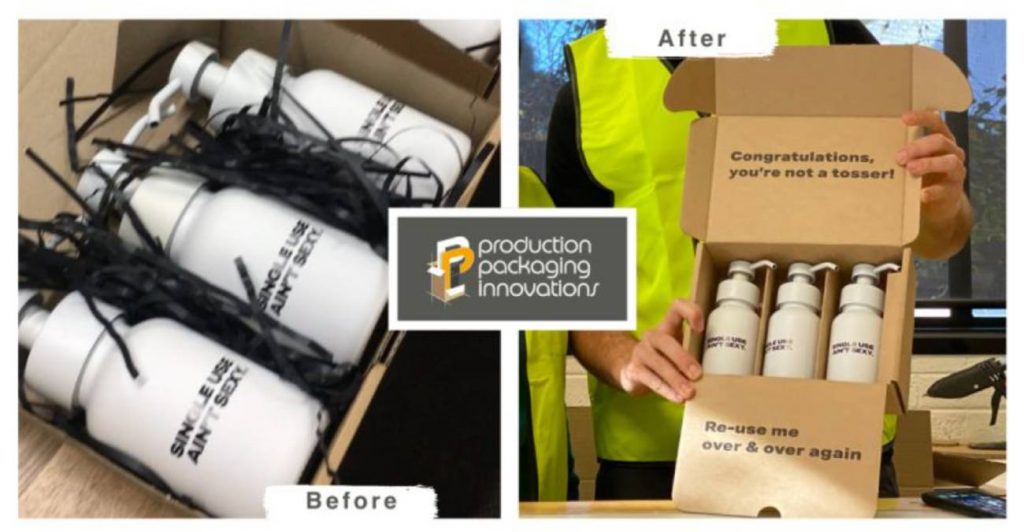 The solution we made for Single Use Ain't Sexy is an extension of their brand, it is a fun experience for the customers that remains conscious of its environmental impact.
The Results
The final solution has greatly benefited Single Use Ain't Sexy in many ways, including:
Brand – The packaging is very on brand: it's good looking and sustainable. The inclusion of branded messaging and a QR code allows customers to interact more with the brand
Customers – Breakages have been minimised and the unboxing experience is now exciting for customers, so their overall experience has greatly improved
Operations – Our solution is quicker and easier to pack, making it more efficient and thus time saving
"PPI were awesome to deal with from the very beginning! They understood the brief and managed to interpret what we wanted and how we wanted to execute it… It was a pleasure working with them and we felt safe being in their hands."

– Josh Howard, Founder Single Use Ain't Sexy