IXL Appliances
IXL Appliances is an industry leader and innovator in home appliances. Since 1858, IXL has been synonymous with the highest quality heat, light and ventilation products.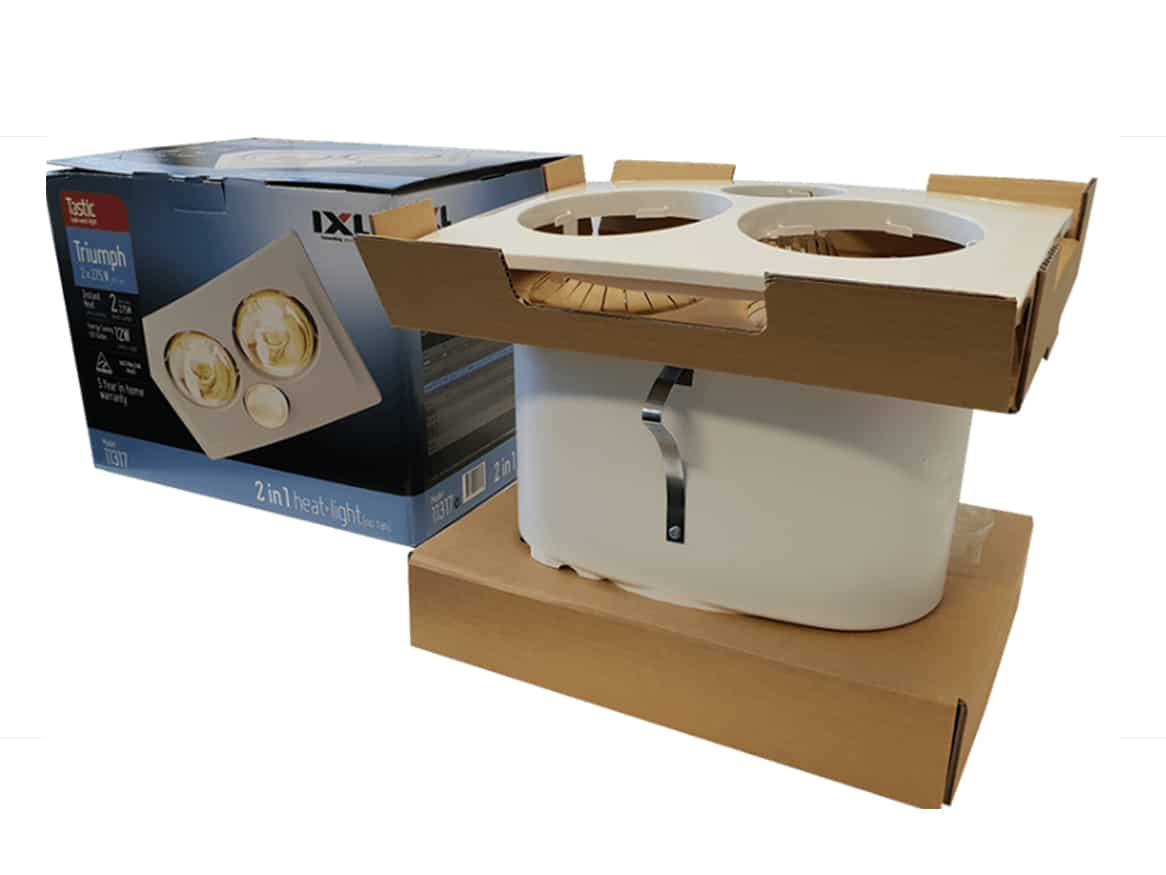 IXL Appliances – An iconic industry leader
IXL Appliances is an industry leader and innovator in home appliances. Since 1858, IXL has been synonymous with the highest quality heat, light and ventilation products.
Over more than 150 years, the IXL brand has grown from its humble beginnings in a Blacksmith shop, to a world class manufacturing plant in Geelong, Victoria. Today, each IXL product represents Australian know-how and a locally engineered solution.
IXL is particularly well known for their pioneering Tastic three function bathroom appliances, which provide heat, light and ventilation all in one. Since designing the original Tastic in 1977, IXL has continued to refine and reinvent the Tastic into 2020 and beyond.
The Brief
For an iconic Australian brand producing appliances for the premium bathroom space, it was essential to find customised packaging that would ensure their more fragile products were protected on their journey between the factory and the consumer.
Rebecca Crothers is the New Products and Project Development Manager at IXL Appliances. She collaborated with us to find a solution for the packaging problems IXL Appliances was experiencing. Rebecca has been working with IXL for three years and has a lengthy history in product development across many industries, from skincare to IT products.
According to Rebecca, IXL approached Production Packaging Innovations to assist with securing products during transportation.
Due to the delicate nature of heat, light, and ventilation products, IXL had previously experienced issues with products becoming damaged during the supply chain journey. IXL were experiencing an incredibly high level of damage on their bathroom products during shipping, with up to $70,000 of cumulative damage on just one product line.
IXL were also looking for a local Australian business to provide their packaging in order to streamline the design and delivery process. Though there are many offshore packaging options available, IXL wanted to deal with someone local during the development process to avoid the possibility of delays.
Finding a protective packaging solution to ensure IXL's products arrive safely at their destination is more relevant than ever, in light of the Commonwealth Government's new HomeBuilder building and rennovation subsidy scheme. This scheme provides eligible owner-occupiers with a grant of $25,000, which means even more customers are likely to be looking to order products to improve their home in the near future.
The Solution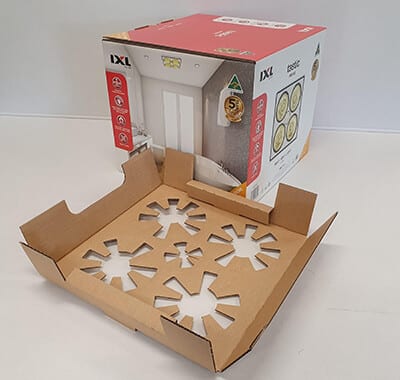 We worked with IXL to successfully design, develop and test fully customised protective inserts to protect the fragile products in the supply chain journey. The particular challenge of the IXL brief was finding a way to protect the fragile bathroom products that was easy to assemble in production and still cost effective.
In close consultation with IXL's in-house designer and head of marketing, PPI partnered with IXL to engineer a tailored packaging solution for their fragile products. PPI used custom designed carboard inserts to protect and support the products during the supply chain journey.
"It was collaborative", says IXL's Rebecca Crothers. "IXL also have an experieced engineering team, so we were able to work alongside the PPI team to develop the best solution."
The quality control team at IXL Appliances have reported a positive outcome after starting to use our custom engineered protective packaging inserts.The team says there has been a distinct reduction in damaged products. By working closely together and testing, we were able to effectively eliminate all damages and returns that were occurring between the factory and the consumer.
The Results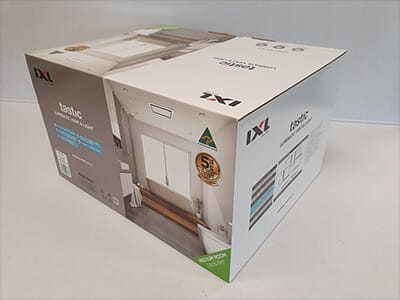 Our design lead approach enabled IXL to avoid losing tens of thousands of dollars on future damage. But more importantly, we were able to help IXL avoid damage to the integrity of their reputation as a premium Australian brand.
Rebecca Crothers speaks of how Production Packaging Innovations have helped IXL Appliances protect the integrity of their brand. Although the project involved creating internal inserts, the capacity for our custom inserts to reduce damages was crucial to maintaining IXL Appliances' reputation as a quality brand.
"Our brand is about quality and Production Packaging Innovations contributed with their design to reduce damages", says Rebecca Crothers.
By initially finding a successful solution to IXL Appliances' need based on strategic design and custom engineering, Production Packaging Innovations has been able to develop a repeat working relationship with IXL. We are now proud to be a packaging partner of IXL Appliances in an ongoing capacity.
"PPI were great to deal with, they provided solutions and were innovative in their approach. They were early and looked to assist wherever possible."

– Rebecca Crothers, IXL Applicances
With in-house design, manufacturing and fulfillment capabilities, we work in partnership with your business to engineer your perfect packaging outcome. Our knowledgeable team of onsite packaging designers and engineers at PPI Create will customise a logistics packaging or display solution to meet the specifications of your product.
We also offer storage and stock fulfilment serviceds to suite your unique packaging supply needs.You can find out more about our services here.
Questions? Call us now on 1800 25 8000 or connect with us to book your free initial packaging consultation, where we will help to make sure your packaging requirements are met.