Packaging Design Considerations for Heavy, Bulky & Oversized Items
Published 7 September 2023 |
Article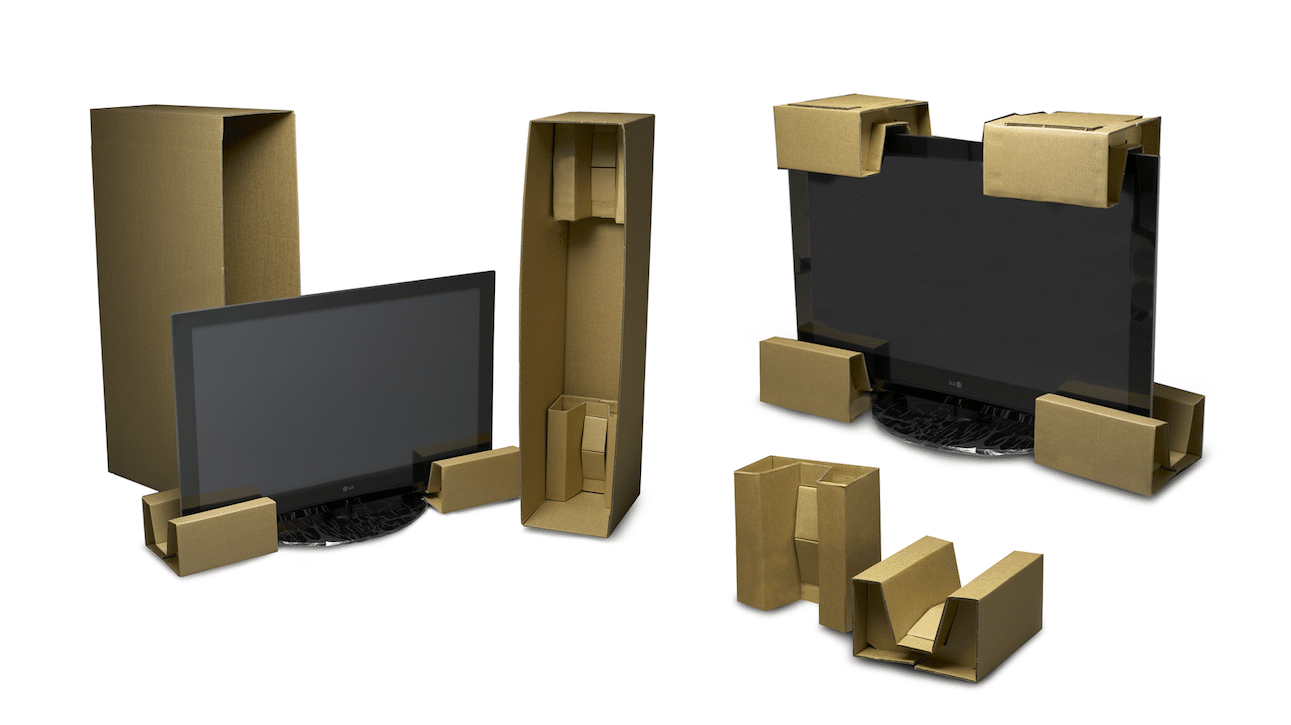 Here at Production Packaging Innovations, there's no packaging job too big, too small, too heavy, too bulky or way too oversized.
When packaging larger items, our planning and creative problem-solving is influenced by various factors. Packaging for home appliances, specialty equipment such as massage therapy tables, TV units and mattress in a box – all require different considerations.
Read on to learn more about what to consider when it comes to designing heavy-duty packaging.
Versatile, Protective and Lightweight Materials
Cardboard is our specialty and a highly popular choice for packaging material for all shapes and sizes.
Corrugated board is made of three to five layers, with a wave-shaped middle layer that makes it extra sturdy than heavy solid boards. Corrugated board has a high weight-to-strength ratio, making it a great option for packaging heavy items.
Pack Smart and Safe
The safety of whatever's inside the packaging is important, and so is the safety of whoever might be handling it in transit, including the end consumer.
Protective inserts 
Items of all shapes and sizes are vulnerable to hazards during storage and transit, such as shocks, vibrations, compression, and human error.
To protect your goods while in transit, often one or more kinds of cushioning or extra protection will be required – in the form of foam padding, bubble wrap or other protective materials.
A sustainable, versatile, and easy-to-store option are the protective corrugated cardboard inserts. These can be used to protect multiple items of one type, within a single large box and are particularly useful for items that are odd-shaped or fragile.
An added benefit of the corrugated cardboard protective inserts is that they can be stored and shipped – flat. This means they won't take up as much space as other insert options when they aren't being used.
Multiple boxes
Trying to fit too many heavy pieces into a single box is an easy mistake to make and it will likely end up damaging your packaging, items or even worse, an injury to someone trying to pick it up.
If possible, spreading the weight of your item across two or more smaller boxes is a much better option to keep everyone and everything safe.
While in transit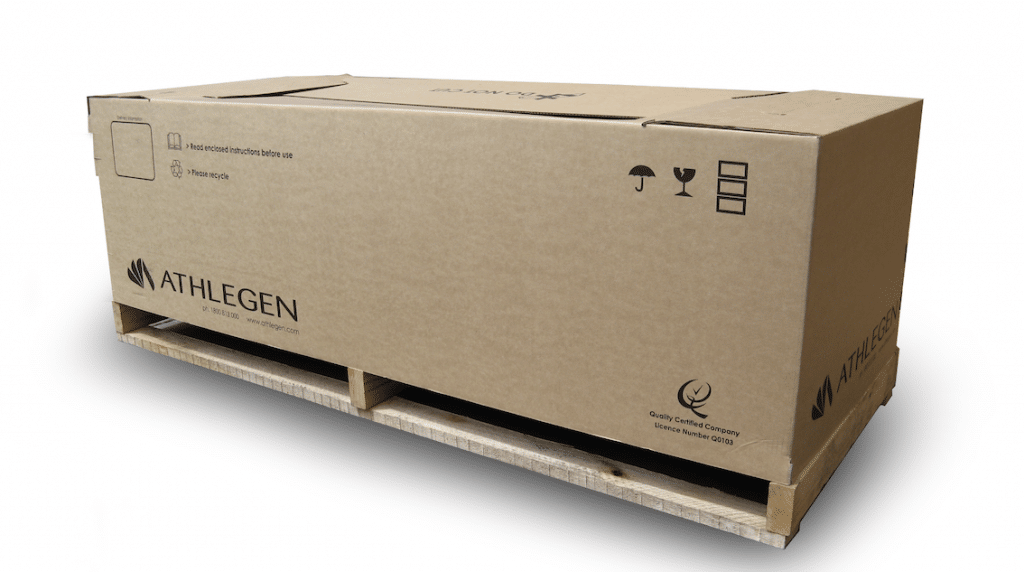 Logistics
The practicality of shipping large and heavy items requires innovative thinking. Your packaging needs to be appropriate for the mode of transport it will be taking to its destination. Depending on your product, location and customer – these could be via a forklift, truck or plane.
Each of these modes of transport and carriers will have its separate rules and restrictions on package size and weight. Therefore, it's essential to research these before you begin designing your packaging. This is also good to keep in mind when deciding shipping costs.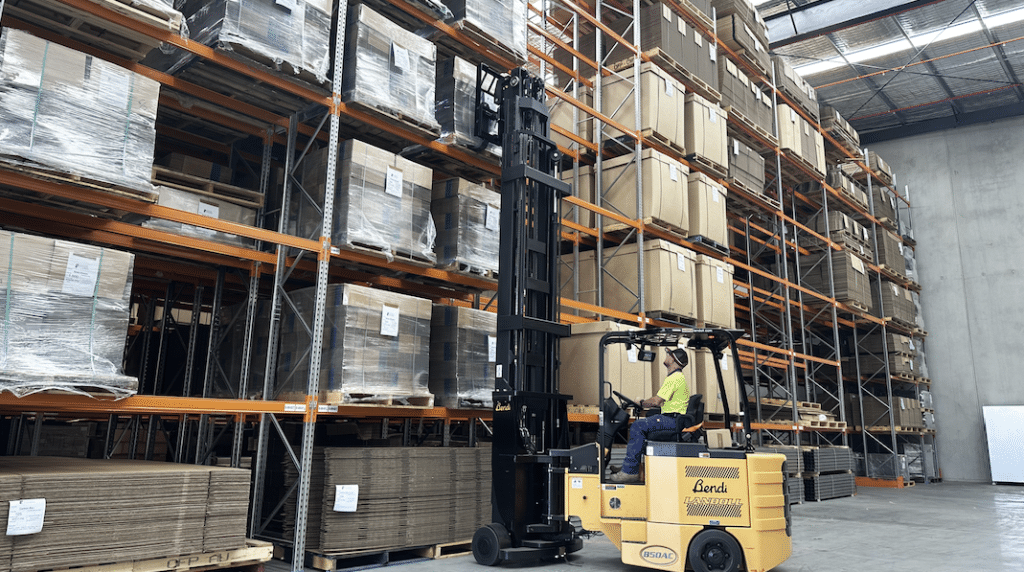 Keep in mind pallet sizes and limitations (if appropriate), and consider "stackability" – i.e. that the shape of your boxes or packaging can fit together easily. It's logistics Tetris, with the aim of the game being to efficiently and economically transiting your items.
Handling
As mentioned above, the safety of the handler of your item – including the end customer – is paramount. Ensuring the box or boxes aren't too heavy is one of the first steps, however, there are additional packaging features that can help ensure safety.
Handles, straps, carrying cut-outs and wheels can be added to packaging to make manoeuvring it from point A to point B easier and safer.
Custom packaging solutions    
If you're looking to ship something bulky or heavy, it's likely you'll need a customised solution for best outcome.
Here at Production Packaging Innovations, our team of packaging experts can work in partnership with you to engineer the ideal solution for your product. Let our design, engineering and manufacturing team guide you through the process towards achieving the ultimate packaging outcome.
And lastly, logistics packaging doesn't need to be brown and dull. The latest printing technologies have made it possible to use your packaging ad free advertising while it's in transit. In addition to making your product look high-quality and and different from your competitors.
Case study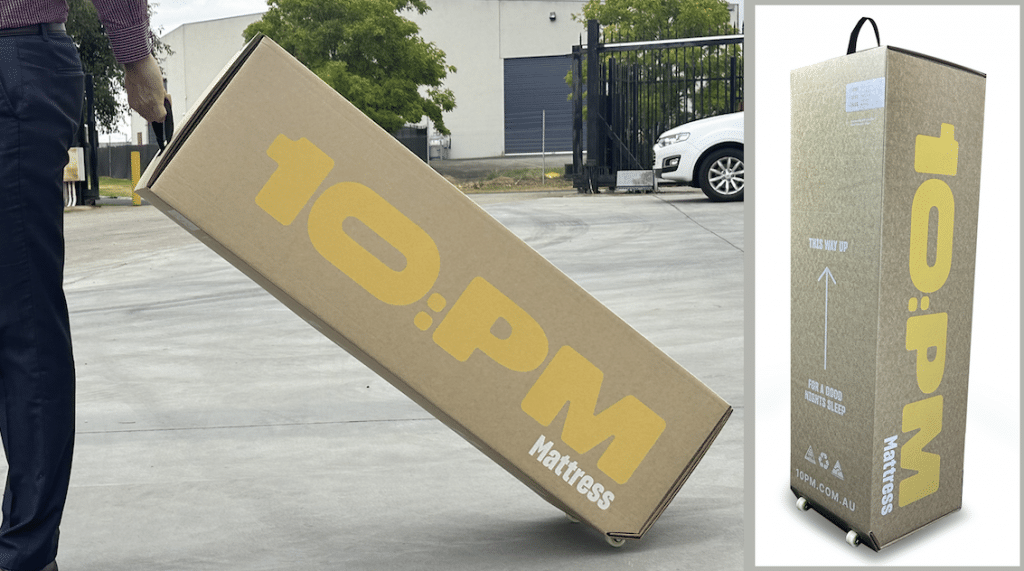 We were recently tasked with creating a custom packaging solution for 10:PM's Mattress in a Box. Our solution was a bespoke box, durable enough to support the weight of the mattress. We provided convenience for both the logistics teams through the easy assembly of the box, as well as for couriers and customers with an added handle and wheels for carrying it around.
The specialty design of the wheels also allowed the boxes to sit flush in transit, resulting in a highly economic outcome overall.
You can read more about Production Packaging Innovation's award-winning packaging design for 10:PM here.